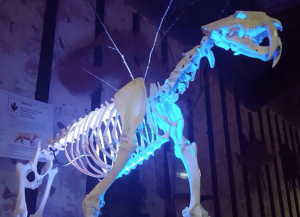 Register here:
https://zoom.us/meeting/register/tJMtduihrjIuHtSL0-eAmtpsn8D7Mw10AK4b
Fridays through January 8th, the Plum City Public Library will be co-hosting virtual learning programs with Colossal Fossils, a Wisconsin based non-profit providing interactive natural history programs.
Watch Facebook or our website's front page for more information!
These programs are designed to be enjoyed by children and adults alike!
Schedule:
Sept 11 – Predators & Prey
Sept 18 – Tyrannosaurus Rex
Sept 25 – Ice Age Giants
Oct 2 – The Age of Humans
October 9 – Women of Science
October 16 – First Life
October 23 – Sea Monsters
October 30 – Sky Monsters
November 6 – The Mammoth Hunter
November 13 – Cave Art 101
November 20 – Flintknapping Basics
November 27 – Fire with Friction
December 4 – Ancient Music
December 11 – Primitive Fishing
December 18 – Ice Age Clothing
December 25 – Cordage (Rope-Making)